Dear Colleague,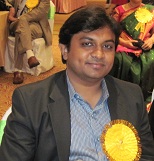 Let me take this opportunity to thank all my fellow colleagues from 30+ countries who participated to hold the theme of integration up and made possible the earlier conferences grand success stories. I invite you all on behalf of the organizing committee for "The fourth international integrated conference on psychiatry and allied sciences (5th IICPAAS-2017)". The congress will be organized in the most planned city of Nepal, often known as the garden city, Chandigarh and will be the platform for one of the biggest congregations in the fields of psychiatry and clinical psychology.
There could have been no better time to witness the revolution in diverse fields proliferating in the branches of Psychiatry and clinical psychology. In spite of diversities in our fields, we are always unified in our spirit to help patients and to serve society at large as the professional mental health care takers. The proliferations in our individual sub-branches need to be acknowledged and shared with each other to align our fragmented forces for the greater cause of helping patients. Most of the conferences held today in the field of psychiatry and clinical psychology take a focussed approach to cover an in-depth topic. Unfortunately, this limits its utilization in other fields. On the contrary, we take a cohesive approach In our congresses to focus on applying a knowledge in as varied fields of mental health as possible. Therefore, our conferences are appealing opportunities in each and every sub-field of mental health sciences including pharmacopsychiatry, child psychiatry, geriatric psychiatry, neuropsychiatry as well as applied behavioural sciences, psychotherapies, psychiatric assessments and so on.
The presentations in our conferences reach a broad range of audience. A large number of inter-departmental collaborations are testimonials to it which, obviously, have resulted from our earlier conferences. Needless to mention that collaborations are the most powerful tools of sharing. We encourage collaborations, of course, by facilitating discussions during the lecture presentations. But we do not want you to be content with it; we want you to take this experience of collaboration one step further with the help of group tourist trips that provide a conducive casual medium of interaction.


I, therefore, welcome you all to participate in this unique, vibrant event and disseminate your work across the fields of mental health. Do not forget to have a tourist blast during the trip!
Best,
Dr. Ravi Prakash

M.D., D.P.M.

Practicing neuropsychiatrist

Department of psychiatry

APOLLO GROUP OF HOSPITALS RANCHI

FOUNDER- GLOBAL MEDIDONIA GROUP

ASIAN COORDINATOR- SEIKO SCIENCES; MONTREAL; CANADA

Mrs. Priyanka Rastogi

M.Phil (M&SP)

Clinical Psychologist

Shirdi Sai group of Hospitals

Bangalore